Together the Wild Rose Sangha and the Calgary Buddhist Temple are hosting a screening of the beautiful film Walk with me
The screening will begin with a talk and short meditation with renowned dharma teacher Chan Huy from the Montreal Institute of Mindfulness.
When:  Nov 8th 2018, 6:30pm
Where: The Calgary Buddhist Temple
#658 1st Ave N.E. Calgary.  There is a parking lot onsite.
Price: $10 suggested cash donation.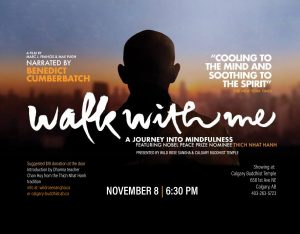 Fall Mindfulness Meditation Retreat With Chan Huy
November 9-12 2018
Camp Chief Hector YMCA
Staying Happy while Practicing Compassion
A Mindfulness Retreat in the Tradition of Thich Nhat Hanh
March 23 to 25, 2018
 Non-residential retreat (with residential option) at Queen's House of Retreats, Saskatoon
Dharma Teacher: Michael Ciborski
After ordaining as a monk under Thich Nhat Hanh and living and training for 7 years in the Plum Village Monastery (France), Michael returned in 2003 to the US, where he helped to establish MorningSun, a spiritual community & mindfulness centre, and continues to teach and lead retreats all over North America.

This retreat is organized by the Saskatoon Community of Mindful Living. If you have any questions, please contact them directly at info@mindfulsaskatoon.ca
Starting Oct 2, 2017 our usual Monday night gatherings will start at 7:15 (15 minutes earlier than it has been in the past).
It is helpful to arrive 15 minutes before we start. Please try to make it by 7 PM. We will try to end by 8:45 PM.