Starting Oct 2, 2017 our usual Monday night gatherings will start at 7:15 (15 minutes earlier than it has been in the past).
It is helpful to arrive 15 minutes before we start. Please try to make it by 7 PM. We will try to end by 8:45 PM.
The Wild Rose Sangha is hosting a non-residential retreat in Calgary Nov 10-12.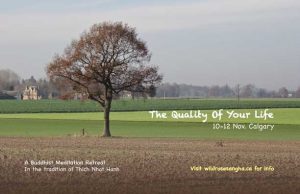 More information can be found here.
Email retreats@wildrosesangha.ca to register.
We are having a Day of Mindfulness Sunday, April 9 10am – 4pm at the Shaganappi Community Hall.
We will be reviewing the practices of the practice period at the day of mindfulness but you do not need to be participating in the practice period to attend. Suggested donation $20.
Everyone is welcome as always!
Please see the following poster for more information on upcoming retreats in April, May, July, and Aug/Sept at Mountain Lamp: