Fall Mindfulness Meditation Retreat With Chan Huy
November 9-12 2018
Camp Chief Hector YMCA
Staying Happy while Practicing Compassion
A Mindfulness Retreat in the Tradition of Thich Nhat Hanh
March 23 to 25, 2018
 Non-residential retreat (with residential option) at Queen's House of Retreats, Saskatoon
Dharma Teacher: Michael Ciborski
After ordaining as a monk under Thich Nhat Hanh and living and training for 7 years in the Plum Village Monastery (France), Michael returned in 2003 to the US, where he helped to establish MorningSun, a spiritual community & mindfulness centre, and continues to teach and lead retreats all over North America.

This retreat is organized by the Saskatoon Community of Mindful Living. If you have any questions, please contact them directly at info@mindfulsaskatoon.ca
The Wild Rose Sangha is hosting a non-residential retreat in Calgary Nov 10-12.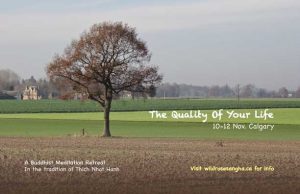 More information can be found here.
Email retreats@wildrosesangha.ca to register.
We are having a Day of Mindfulness Sunday, April 9 10am – 4pm at the Shaganappi Community Hall.
We will be reviewing the practices of the practice period at the day of mindfulness but you do not need to be participating in the practice period to attend. Suggested donation $20.
Everyone is welcome as always!