Peace in Oneself, Peace in the World
The Wild Rose Sangha will be hosting a Day of Mindfulness with the theme Peace in Oneself, Peace in the World. Former nun in the Plum Village Tradition, Melina Body, will be joining us for part of the day.
When: Sunday September 25th 2022 from 9:00am to 4:00pm MST
Where: FCJ Centre and online.
Who: All are welcome to join
What: A schedule of the day will be posted here later in September.
Registration: Please register here.
Suggested Donation: $50 for in person retreat (A vegetarian lunch will be offered to all in person attendees), $30 for online.
To donate online.
Donations can also be accepted via etransfer, details of how to send donations via are on the registration page. If you would like to attend but do not have the means to donate, please let us know on the registration page as scholarships are available.
About Melina
Hello! I started meditating in 2003 after I found "Call Me By My True Names," a poem by Thich Nhat Hanh, on the internet. I soon attended my first retreats in Asia and North America and never looked back. I first studied with Insight teachers Molly Swan and Norman Feldman at home in Canada then in 2012 I ordained with the Vietnamese Zen Master and peace activist Thich Nhat Hanh at Plum Village, France. I spent six challenging and insight-filled years inside the monasteries and another 3+ years outside of the monasteries sharing mindfulness practices with communities across Canada and the US, taking time for longterm silent retreats in the Insight tradition, and training in anti-racism. I've now left the robes behind but my dedication to meditation and mindfulness for all remains the same. In the spring of 2021 I knew it was time to return to lay life and share what I've learned with a broader community.
I am a queer, white settler in Canada, a cancer survivor and a writer. It is my honour and my passion to support people in practical and creative ways to develop mindfulness, compassion, and joy in daily life.
You can find out more about me and my work at: www.melinabondy.com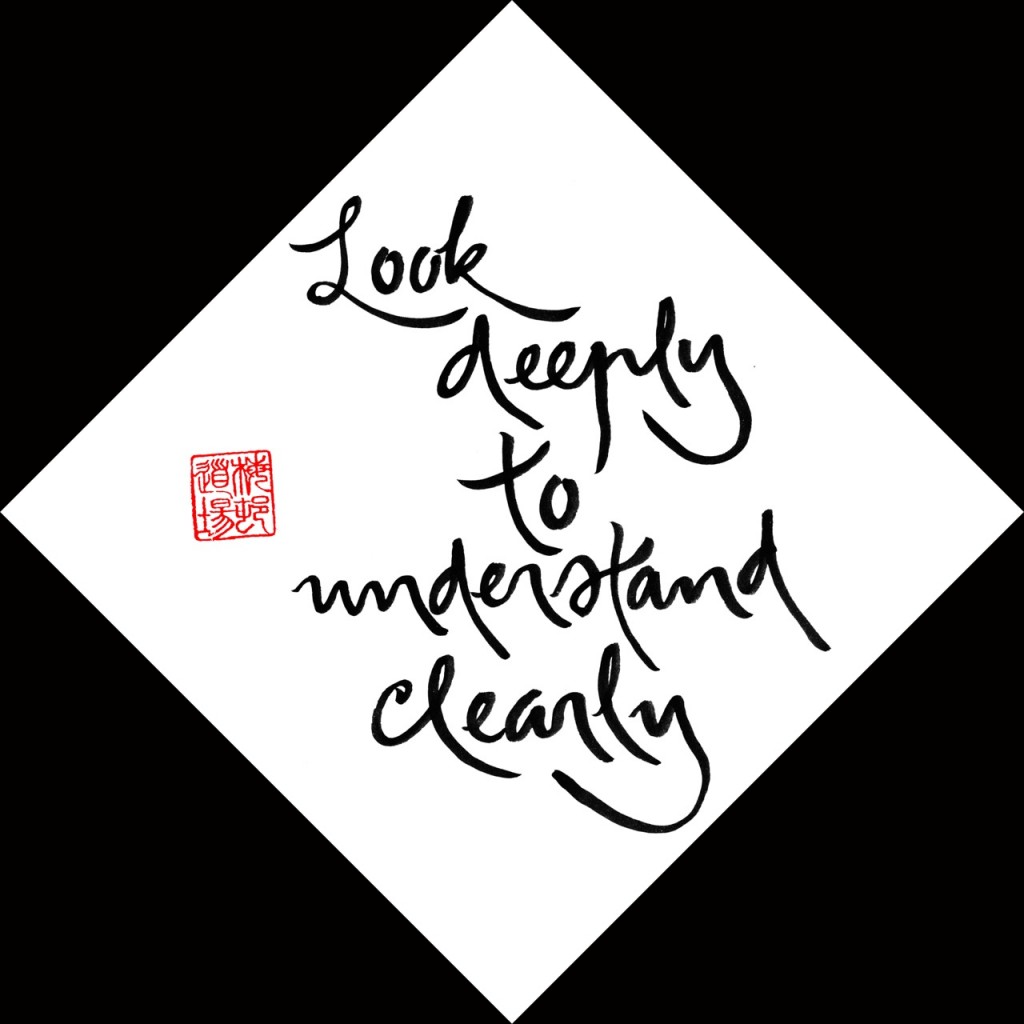 Tracey is offering a course on the Four Establishments of Mindfulness
The course will be held 6 Tuesdays 6pm-7:30pm on our regular zoom channel starting Tuesday January 18.
If you plan to attend it would be helpful, but not absolutely necessary, to have a copy of Thay's commentary on the sutra. It is included in the book Awakening the Heart. The same commentary is in the book Transformation and Healing.
No need to register. It is OK to drop in as the timing fits your schedule. This course is offered on the regular Wild Rose Sangha Zoom Channel. If you are not yet a member of the Sangha you can learn more about our practice and how to join our list serve here
The Tuesday evening practice will be as follows:
20 minute sitting meditation
20-30minute reflections and talk
30-40 minutes Dharma sharing
The Four Establishments of Mindfulness is a key text in our tradition and core to many Buddhist teachings. Exploring this sutra will help us to come more deeply in touch with our body, mind and feelings in order to cultivate the energy of mindfulness. These practices transform suffering and awaken the heart of love. It is a powerful set of practices that lead directly to awakening. As described in the sutra itself, studying these practices, "helps beings realize purification, transcend grief and sorrow, destroy pain and anxiety, travel the right path, and realize nirvana."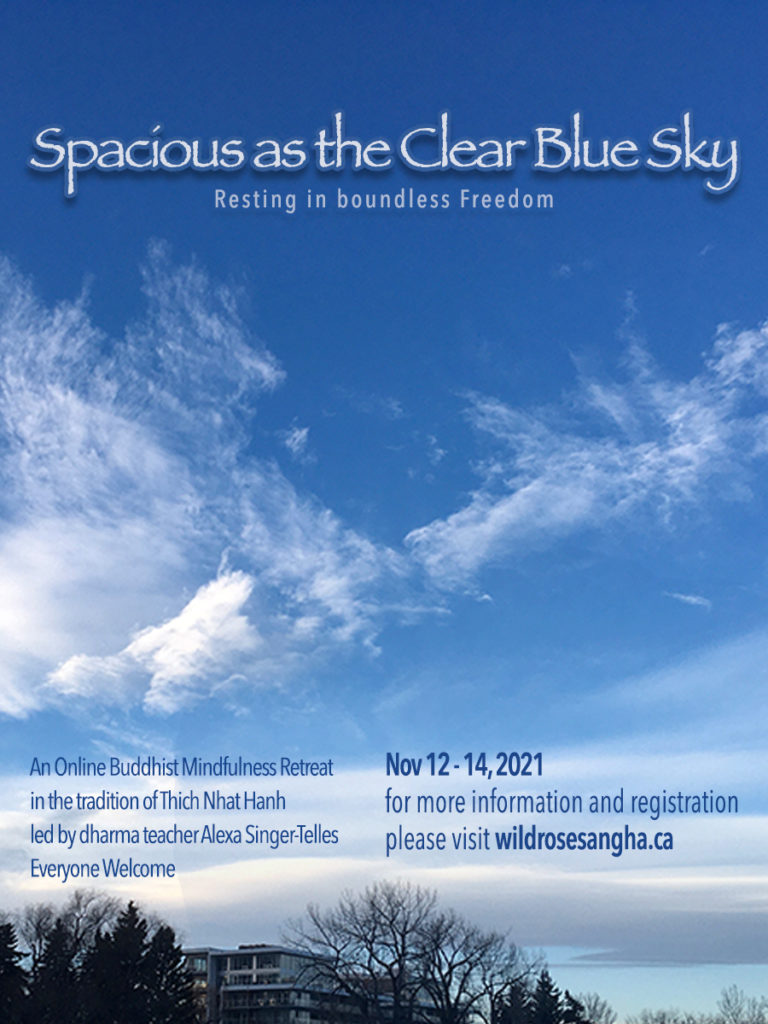 Spacious as the Clear Blue Sky: Resting in Boundless Freedom
"As I see it, there isn't so much to do. Just be ordinary—put on our robes, eat your food, and pass the time doing nothing."

Master Linji
Retreat Description
Imagine having a mind like the clear blue sky, knowing the sun of wisdom is shining by day, and the ever-changing moon reflecting at night. Our mindfulness practice guides us to cultivate solidity, freshness, stillness, clarity and spaciousness. On this retreat we will practice in an atmosphere of spaciousness, have periods of sitting, walking, deep relaxation, dharma talks, sharing and sky watching. We will rest in the poetry of the dharma to free ourselves from story, worry, and regret by stabilizing in the breath-body to deepen concentration. We will discover our own dharma doors to creatively focus on the vastness of the sky and notice our moment to moment experiences as passing clouds or flying birds.
There will be an opportunity to receive the 5 mindfulness trainings in a ceremony during the retreat. If you are interested, please let us know when you register.
We will rest in the poetry of the dharma, stabilize in the breath-body, and free ourselves from story, worry and regret.
The retreat will be lead by Dharma teacher Alexa Singer-Telles
Alexa began practicing in the tradition of Vietnamese Zen Master Thich Nhat Hanh in 1991, and co-founded River Oak Sangha in Redding that same year. In 2004 she was ordained into the Order of Interbeing, taking the 14 Mindfulness trainings to join the core community of this tradition. After five years in dharma teacher apprenticeship, Alexa received Lamp Transmission (teacher authorization) in 2014, from Thich Nhat Hanh in Plum Village. She continues to consult regularly with her teacher, dharmacharya Lyn Fine.
In addition to providing leadership and trainings at her sangha for 26 years, Alexa has led a variety of retreats throughout Northern California, including several in the context of Judaism and Buddhism. She is a practicing Marriage and Family Therapist, and also facilitates groups using Soul Collage, a joyful art process that helps tap into one's inner wisdom and guidance.
Anchored in Awareness article by Alexa Singer-Telles.
Schedule:
Friday, Nov. 12, 6–8 pm MST
Sitting, walking and guided meditations
Sky watching
Saturday, Nov. 13, 7 am–7 pm MST With spacious breaks throughout the day
Sitting, walking and guided meditations
Dharma talk and writing exercise
Touching the Earth
Deep relaxation
Dharma sharing
Sunday, Nov. 14, 7 am–3 pm MST With spacious breaks throughout the day
Sitting meditation
Transmission of the Five Mindfulness Trainings
Q&A with Dharma teacher
Tea ceremony and Dharma sharing
To Register:
To Pay:
The Retreat is entirely organized by Sangha volunteers all of the money collected for the retreat goes towards offering Dana (donation) to our teacher and to maintaining the online practice of the Sangha. The base cost of the retreat is $100 CDN. The retreat can either be paid for online or through etransfer (etransfer information will be forwarded by the registrar). If you are in a position to practice generosity and to give additional funds there is another link below. If you would like to join the retreat but do not have the funds please let our registrar know and they will seek a scholarship for you.
To pay for the retreat online:
https://wildrosesangha.ca/product/fall-2021-retreat/
To donate additional dana:
http://wildrosesangha.ca/donate
Questions?
Visit our FAQ section to learn more or
Feel free to come to our regular Monday night Sangha gatherings if you have additional questions
Relaxing into Boundless Freedom
Fall Meditation Retreat
Save the Date: November 12th-14th 2021
The Wild Rose Sangha will be holding our annual Fall Meditation Retreat online November 12th-14th 2021. All are welcome to join. Please check back to the website in the upcoming weeks for more details and registration information.
"As I see it, there isn't so much to do. Just be ordinary—put on our robes, eat your food, and pass the time doing nothing." Master Linji