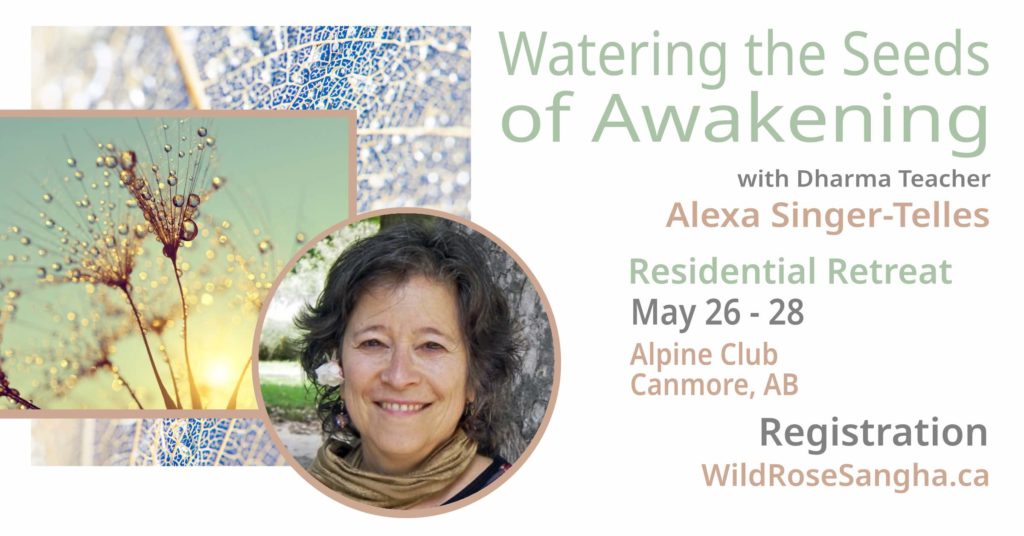 Join us in the heart of the Rocky Mountains to be embraced by the freshness of spring unfolding & nourished by the practices of mindful meditation. Our retreat will be spacious, with times of sitting & walking; silence & connection, creative play & the opportunity to slow down to deepen our awareness of the preciousness of each moment. We will explore the seven factors of awakening – mindfulness, investigation, energy, joy, tranquility, concentration & equanimity. We will come fresh to the mindful practice of meeting each moment in an open & curious way to awaken to the wonders & beauty of life & the joy of coming together once again in person.
About Alexa
Alexa has been practicing in the Plum Village tradition of Vietnamese Zen Buddhism for more than thirty years. She received Lamp Transmission to be a Dharma Teacher from Ven. Thich Nhat Hanh in 2014. Alexa is a Marriage & Family Therapist, an expressive artist & a lover of poetry. Her teachings support deepening practice by focusing on body awareness, encouraging creativity & watering seeds of joy.
To Register
Registration is $290 for the retreat. This fee covers shared, dorm-style, accomodation at the nordic centre and all vegetarian food. The Retreat will begin Friday afternoon and end Sunday by 12pm.
Please note registration is now full to join the waitlist please fill out this form and we will finalize registration by the end of April: https://forms.gle/Yt6h9p34MGmFjKV26
Schedule (To be Confirmed)
FRIDAY
5:00pm Registration
5:30-6:30pm Dinner
7:00pm Orientation to meditation and practices for the weekend
7:50 – 8:15pm Guided Meditation
8:15 – 8:25pm Stretching
8:25 -8:45pm Deep meditation/Dedication of Merit
SATURDAY
6:00am Wake up
6:30am Sitting Meditation
8:30am Breakfast
9:30am Guided meditation
10:00am Dharma Talk
11-11:30am Creative Practice
11: 30am Outdoor Walking
12:30pm Lunch
1:30-3:00pm Personal Time
3:30 – 4:45pm Dharma Discussion
5:00-6:00pm Dinner
7:00 – 8:30pm Sitting Meditation and MTT Ceremony
SUNDAY
6:00am Wake Up
6:30 – 8:00am Meditation
8:15am Breakfast
9:00am Cleanup
10:00am Closing
10:30am-1:00pm Optional hike and picnic lunch in Canmore